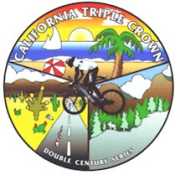 We're still waiting for the
California Triple Crown
to update their
database
, but our successful completion of the
Knoxville Fall Classic Double Century
on Saturday clinched our 24th consecutive CTC series. That's a successful completion in all of the 24 years the CTC has been around.
Not to brag (well, OK, a little bragging), but there is no other rider who's done that--only CTC founder Chuck Bramwell is close, with 23 finishes.
See you next year, Chuck!