Reader Terry A sent these photos and this report on his growing stable of Campy-equipped Tommasinis:
The Red Carbo Light (my 8th ever Tommasini) is 10 speed equipped but I've added a Super Record 11 rear derailleur (plus thin shims both sides of the pulleys due to the slightly wider chain. Shifts great and looked even better. This bike is my "everyday" hammerfest and race bike.

The black carbon Velocista (my 9th ever Tommasini) runs 2010 Super Record throughout. I am a bit more choosey as to where/when I ride this bike – it does get it's share of competitive group rides but it's not used (yet) for any all out pack racing situations.

#10 Tommasini is on order……custom geometry and it will be fitted with 2011 Super Record and Bora Twos……can't wait.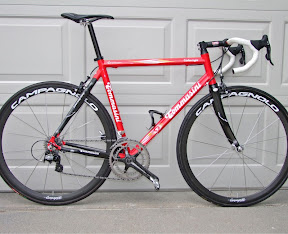 - Posted using BlogPress from my iPad